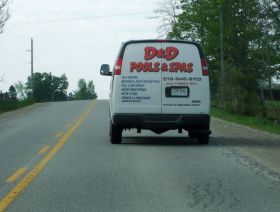 D & D not only installs new swimming pools, but also specializes in pool repairs and renovation. Like anything else, a pool can start to show its age over the years. The liner may be starting to leak, the deck may be getting some cracks, or maybe the overall look is just starting to look tired and dated. No matter how simple or complex, the experts at D & D can provide the advice and assistance you need to get everything back to ship shape.
Vinyl liner replacement
A new liner can provide a completely new look for your pool. At D & D we take special effort to ensure the proper installation of new liners. For each installation we take between 50 and 70 separate custom measurements. This helps to ensure the maximum precision fit. Beware of those who might take shortcuts and over-stretch the liner which will shorten its life. We use only the finest quality Canadian vinyl in 30mil weight with a wide variety of colour and pattern choices. Our work comes with a 3 year installation warranty. Your new pool liner, produced by Latham Splash Canada, comes with a pro-rated 25 year manufacturer's warranty. Click here to view the latest colours and patterns.
Leak detection & repair
Pool leaks can be annoying and costly, especially if not fixed promptly. Although pools are built to be water tight, the sealants and components do deteriorate over time. Leaks can occur through any of the fittings or accessories, plumbing, or even through a breakdown of the vinyl liner. It is important to repair leaks, not only to save water, heat, and chemicals, but also to prevent undermining of the pool's structural components.
Here are some signs you may have a leak:
    Your pool or spa has air in the system
    You add water more than once a week
    The deck of your pool is sinking or raised
    There are wet spots around the pool area
The leak detection experts at D & D can pinpoint the source of the leak by examining your system and equipment, pressure testing lines, and if necessary conduct sonic testing for underground leaks. Once detected, you will be provided with a recommendation for the most cost-effective method of repair.  
Pool renovation 
Is your pool becoming less inviting than it used to be? Maybe it's out-of-date or in disrepair, or maybe it's just plain boring. With some valuable input from you, D & D can provide endless creative ideas and help turn your backyard into something that everyone will enjoy.
Liner replacements can provide an easy upgrade to vinyl pools. To reflect your unique style, today's vinyl liners come in a beautiful array of designer colours and patterns.
New decking can completely transform your pool area, with a choice of beautiful materials from stamped concrete, to pavers, to natural stone. Whether it's a simple patio or a multi-level entertainment area, the design possibilities are endless
Water features offer a wonderful addition to any poolscape. Spas provide a relaxing, romantic escape and add a whole new level of enjoyment. For the ultimate in excitement and sophistication add a fountain or waterfall
Equipment upgrades can help you get more enjoyment from your pool. Today's high-efficiency equipment can save you both time and money, and the new high-tech options like Hayward's Omni Logic automated control system and robotic cleaners, can take the hassle out of maintenance.
Call D & D today to ensure that you are getting the maximum benefit from your precious investment.