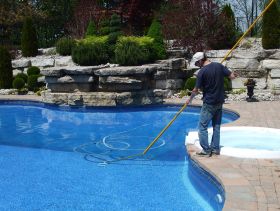 We know that no one likes to see a dirty pool, but we also know that many people have busy schedules and just find it difficult to get to everything, that's why D & D offers a weekly service package that will free up your time for the important things. Our service will not only save you time and effort, but will also help maintain the value of your investment by ensuring that everything is operating at optimal efficiency. Maybe it's time to leave those chores to us so you can get maximum enjoyment out of your pool.
Weekly pool and spa maintenance includes:
Brush pool walls and vacuum pool

Net any debris from pool surface

Empty skimmer basket and pump basket

Backwash filter, if salt system, clean cell as needed (additional charge)

Clean pool steps

Shock pool

Test and balance pool water (charge for chemicals, if required) 
Our weekly service staff is there to ensure you get the best out of your pool, they will take note of your preferences and do everything they can to make living with a pool more enjoyable for you―please rest assured, we take great pride in customer service.