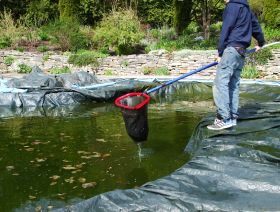 The best part of owning a swimming pool is having time to enjoy it with family and friends. That's why many pool owners leave the chore of opening and closing their pool to the experts at D & D. Not only will it be easier on your back, but it can also extend the life of your pool by ensuring that it is done properly each time. D & D has been making life easier for hundreds of satisfied families each year, so why not enjoy more of your precious time and leave the heavy work to us.
Spring Pool Opening
This professional service includes:
Discharge accumulated water from winter cover
Remove all solid matter from winter cover
Empty and store water bags
Remove all winter plugs and store
Re-plumb filtration system, re-plumb pump and heater, re-plumb solar system if required
Replace deck equipment and take solar blanket to end of pool
Shock pool water
Staff will have anything you may require including chemicals on their service truck (charged additional as required)
As an option, you wish to have us return and vacuum your pool and handle of startup once the pool water is filled to operating level.
Our staff takes pride in getting your pool season off to a good start, so feel free to ask any pool or spa related questions you might have―customer service is our strength
Fall Pool Closing
This professional service includes:
Discharge water level to bottom of return jets
Remove and store deck equipment
Winterize all pool equipment (pump, filter & heater, solar system if required)
Store all plugs, gauges, site valves
Remove all water from underground lines
Plumbing antifreeze is applied in skimmer and all underground lines are sealed closed
Shock pool for winter
Install winter cover and water bags
Winter algaecide and scale inhibitor may be applied at this time (recommended, but optional at extra cost)
You may also request that your salt cell be cleaned at this time
Our service staff wants you to rest easy over the winter, so they will go out of their way to make sure you are pleased with our closing service